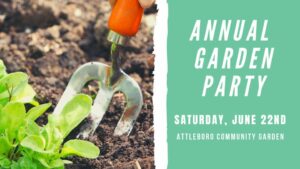 Join us this Saturday, June 22nd for our Annual Garden Party!!
Open house starts at 10:30am. Join Master Gardener Kathi Gariepy for a morning workshop at 11:00am on Diseases and Pests in the Garden.
Stop by the children's activity table in the morning and stay for our potluck barbecue at noon. Bring your family and friends!
The potluck signup sheet is posted at the kiosk. We also ask that you bring a chair.